News — Accessories
Posted by Mitchell Sotka on
       Spice up your summer with something new and artful! On Saturday, July 22nd, Red i Jewelry's talented creator, Susan Scaparotti, is bringing in her newest creations from 11:00AM-4:00PM. We've featured her jewelry in our shop before, but she continues to amaze us with completely unique and one-of-a-kind pieces! Much of her work revolves around salvaging vintage or antique components and re-envisioning them in a contemporary fashion. Susan Scaparotti has been a full-time jeweler for over 15 years and took after her father, Enrico, who also practiced the fine jewelry craft throughout his 93 years of life. Like her father,...
Tags:

Accessories, Art, Artist, Event, jewelry, Local, Ohio, Pop Up, Red i Jewelry, Small Business, Susan Scaparotti
Posted by Mitchell Sotka on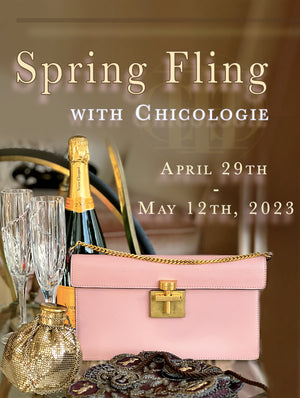 Spring has arrived with crisp, fresh accessories! Starting Saturday, April 29th, Chicologie is bringing in the sweetest collection of Vintage, Antique, and Luxuriously Crafted Designer Handbags, Scarves, and airy accessories. Beautiful Hermès scarves, a show-stopping selection of Gucci, and a perfect blend of color and novelty will all make an appearance at this trunk show. Rumor has it there will also be some designer sunglasses making their debut. This Collection will be available until the following Saturday, May 6th.     Follow us on Instagram and Facebook to see more of this collection!