Posted by Mitchell Sotka on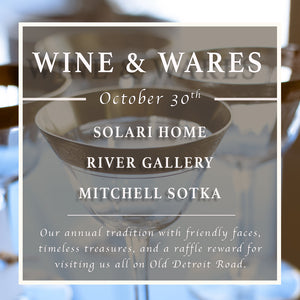 Solari Home, River Gallery, and Mitchell Sotka have a lot in store for you at our annual Wine & Wares event. Join us 4:00-6:00PM for safely socializing and shopping at your favorite local businesses. Let us stamp your passport every time you visit or make a purchase at our shops and you'll be able to enter our raffle! 
This event also launches our three week Furniture Sale, so prepare for amazing deals and excellent company.