News — Susan Scaparotti
Posted by Mitchell Sotka on
       Spice up your summer with something new and artful! On Saturday, July 22nd, Red i Jewelry's talented creator, Susan Scaparotti, is bringing in her newest creations from 11:00AM-4:00PM. We've featured her jewelry in our shop before, but she continues to amaze us with completely unique and one-of-a-kind pieces! Much of her work revolves around salvaging vintage or antique components and re-envisioning them in a contemporary fashion. Susan Scaparotti has been a full-time jeweler for over 15 years and took after her father, Enrico, who also practiced the fine jewelry craft throughout his 93 years of life. Like her father,...
Tags:

Accessories, Art, Artist, Event, jewelry, Local, Ohio, Pop Up, Red i Jewelry, Small Business, Susan Scaparotti
Posted by Mitchell Sotka on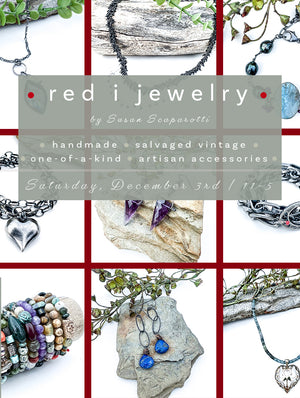 Susan Scaparotti is gracing us with her artistry on Saturday, December 3rd from 11-5! If you're familiar with her brand, red i jewelry, you already know this pop-up is worth visiting. If this artist is a stranger to you, continue reading and we will explain why we adore her handcrafted jewelry. Firstly, Susan is a talented artisan and has a fabulous eye for designing pieces. She uses a combination of techniques and materials to make each piece which make them one-of-a-kind. Often, she salvages parts from antique and vintage jewelry to make something new. In doing this, she turns unwearable...
Tags:

Art, Artist, Event, Fashion, jewelry, Local, Ohio, Pop Up, Red i Jewelry, Small Business, Susan Scaparotti, Vintage
Posted by Mitchell Sotka on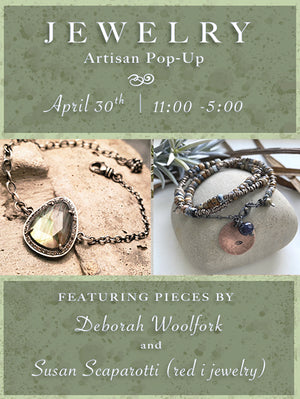 For the first time since Covid-19, Susan Scaparotti (red i jewelry) and Deborah Woolfork will be setting up in our shop on Saturday, April 30th to share some of their newest creations. Add this to your calendar now! They are only gracing us with their fabulous jewelry for the day, so you surely will not want to miss them. Both Masterful Jewelers are exceptional artisans and lovely to be around - We cannot wait to have them back in our store!